An inn overlooking
the foothills of Mount Myoko
that healsthe body and mind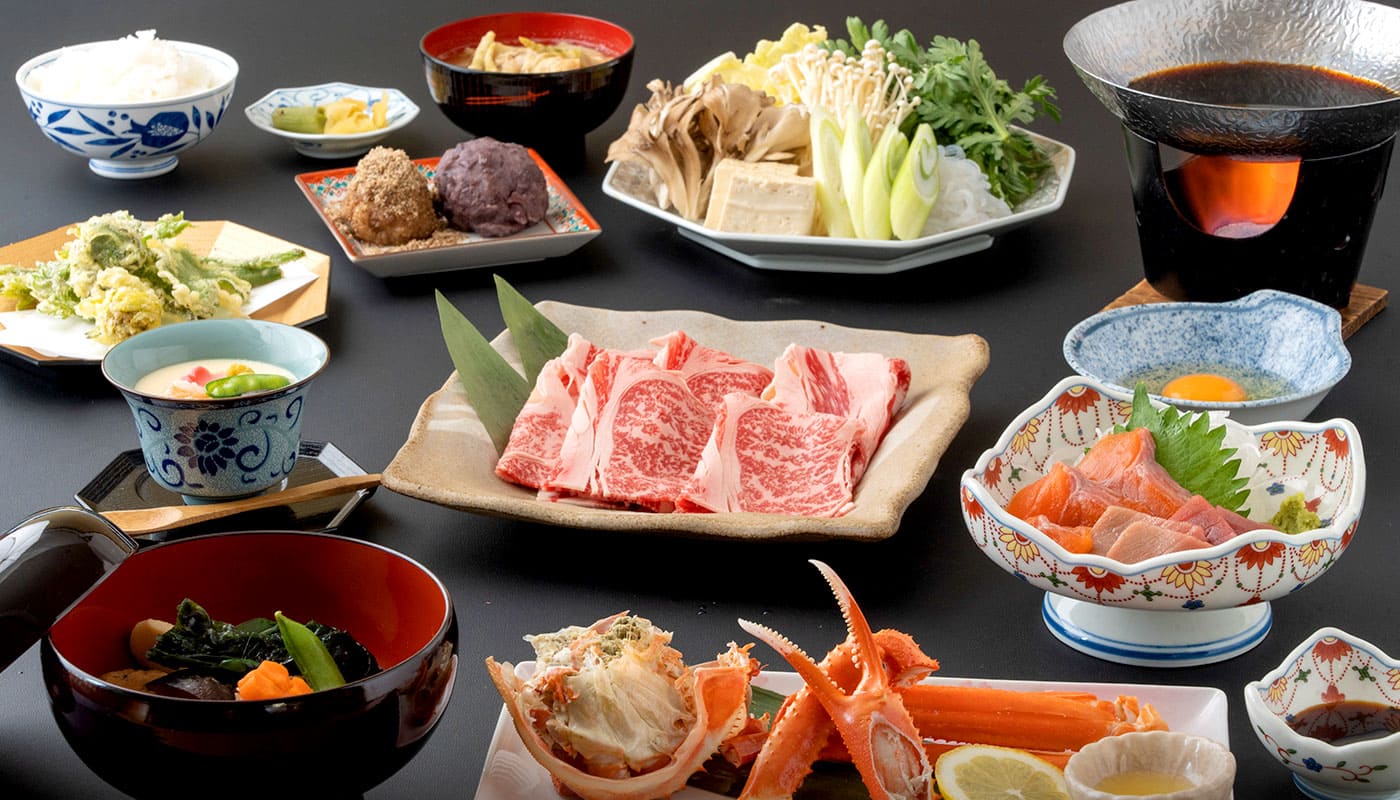 Location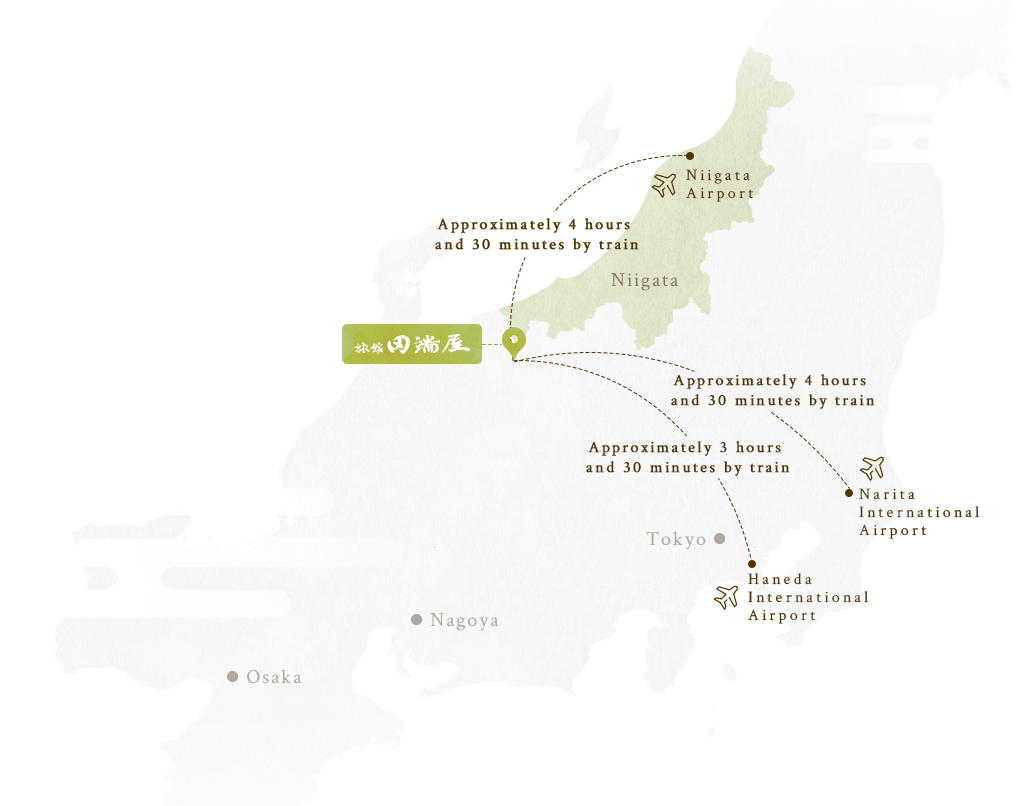 Approximately 4 hours and 30 minutes by train from Narita Airport. Approximately 5 hours by train from Haneda Airport. Approximately 4 hours and 30 minutes by train from Niigata Airport.
Cuisine
Exquisite cuisine
to sate the body and mind
Enjoy heartwarming traditional local dishes and authentic Japanese cuisine at an old standing inn founded in 1905. We use carefully selected local ingredients as well as homemade rice and miso.
*Halal cuisine is available upon request.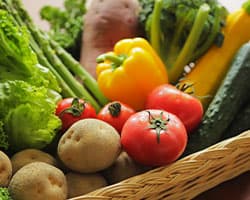 Exquisite homemade ingredients
We are meticulous about the ingredients used in our meals, which include vegetables grown at the innkeeper's childhood home and rice produced by the owner. Our miso and pickles are homemade.
Guestrooms
Spacious Japanese-style rooms
All rooms at our inn are Japanese-style. We use antibacterial tatami mats throughout the hotel as well as other measures to prevent the spread of infection to ensure peace of mind for our guests. Pet dogs are also welcome to stay.
Free Wi-Fi

All rooms non-smoking
Guestroom Overview
Guestroom Facilities
Air conditioning, TV, fan heater, safe, electric kettle, antibacterial tatami mats
*Restrooms and baths are shared.
Amenities
Yukata, bath towel, face towel, toothbrush, disposable razor
Number of rooms
12 rooms total
(two 6 tatami mat rooms, one 7 tatami mat rooms, three 8 tatami mat rooms, six 10 tatami mat rooms)
Pet rate
Small/medium-sized dogs: ¥2,200/
Large dogs: ¥3,300
*All rooms are Japanese-style.
Baths
Blessings from the foothills of Mount Myoko
Our baths use natural spring water from the foothills of Mount Myoko. Take your time and wash away fatigue from your travels.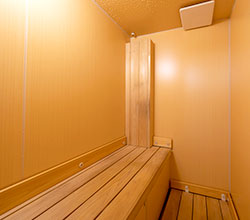 The Mist Sauna at Tabataya
Our hotel is equipped with a mist sauna made by the company Corona. Our nano-mist sauna made with technology that generates negative ions lets you warm yourself from the inside out for a truly relaxing experience.
Sightseeing
Places to discover Kuzuryu
Places related to the Legend of Kurohime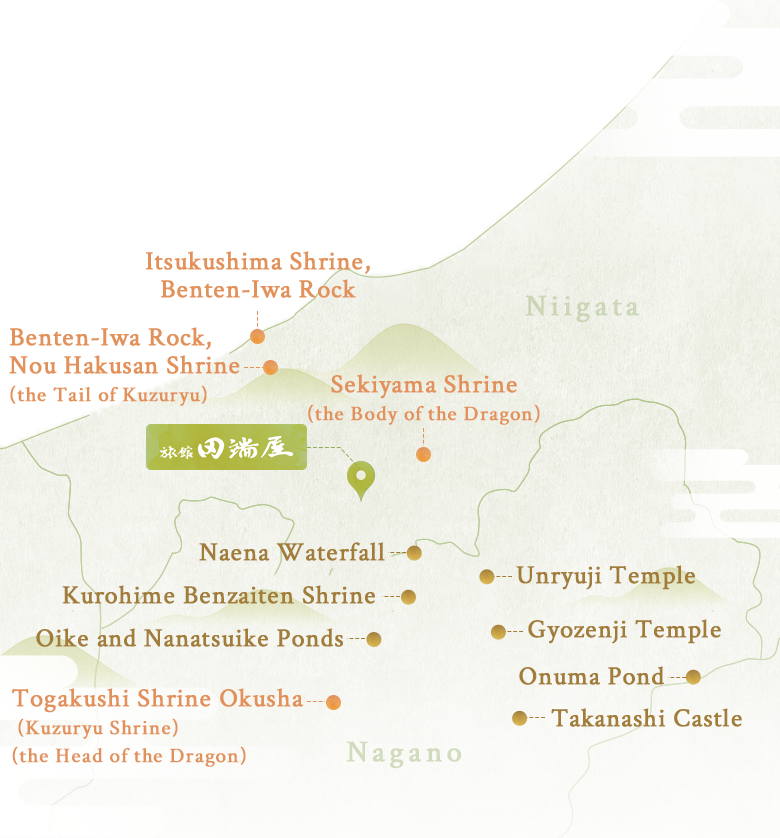 Tour spiritual power spots

and places of folklore
The vicinity of Tabataya is brimming with venerated historical tourist destinations. We recommend a tour of places related to Kuzuryu, the Nine-Headed Dragon, and sightseeing to places appearing in the Legend of Kurohime. Naena Waterfall and Sasagamine(Myoko-Kogen Area)

Myoko Ski Resort

Lake Nojiri

Togakushi Shrine Okusha(Kuzuryu Shrine)
(the Head of the Dragon)

Jigokudani Monkey Park

Joetsu

Benten-Iwa Rock, Nou Hakusan Shrine(the Tail of Kuzuryu)

Mount Hiuchi
Facility
Overview
Free Wi-Fi

All rooms non-smoking
Check-in /
Check-out
Check-in starts at 3:00 PM / Check-out until 10:00 AM
Amenities
Yukata, bath towel, face towel, toothbrush, disposable razor
Hotel Facilities
Free Wi-Fi, bath, sauna, cafeteria, parking lot, vending machines
Borrowable Items
Hair dryer, refrigerator (3rd and 4th floor), UNO, playing cards, hanafuda (Japanese playing cards), Othello, the Game of Life
Payment Methods
Cash, VISA, MASTER CARD, JCB, AMEX, PayPay
Access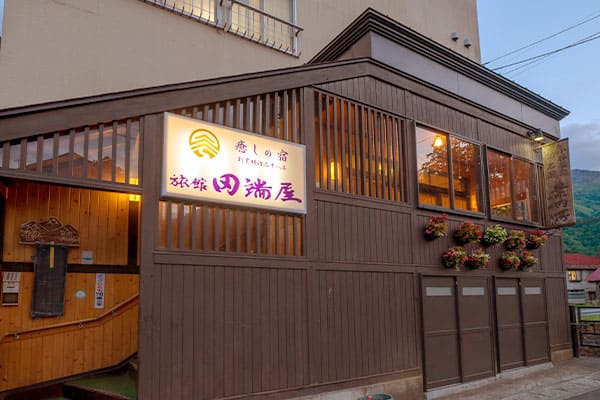 Tabataya Ryokan, an inn of healing
〒949-2113 2468 Suginosawa, Myoko-shi, Niigata
Tel.+81-255-86-6108 / Fax.+81-255-86-6539
Routes from Nearby Airports
Haneda Airport
(Haneda Airport Terminal 3 Station)
Approximately 40 minutes by train
Tokyo Station
Hokuriku Shinkansen
Approximately 1 hours and 30 minutes
Nagano Station
Shinano Railway (Kita-Shinano Line)
Approximately 45 minutes
Myoko-Kogen Station
Taxi
Approximately 10 minutes

Narita International Airport
(Narita Airport Terminal 2・3 Station)
Approximately 1 hour and 20 minutes
by airport bus
or 1 hour and 10 minutes
on the Narita Express.

Tokyo Station
Hokuriku Shinkansen
Approximately 1 hours and 30 minutes
Nagano Station
Shinano Railway (Kita-Shinano Line)
Approximately 45 minutes
Myoko-Kogen Station
Taxi
Approximately 10 minutes
Niigata Airport
Limousine Bus Niigata Airport Line
Approximately 25 minutes
South Exit of Niigata Station
Approximately 4 minutes
on foot
Niigata Station
JR Shirayuki -
Myoko Haneuma Line
Approximately 2 hours 43 minutes
Myoko-Kogen Station
Taxi
Approximately 10 minutes
Reservation required

Free Shuttle Guide

Free shuttle service is available with a reservation from Tabataya to Myoko-Kogen Station. Please feel free to use this service.

Shuttle Service Time
9:00 AM - 12:00 PM
How to Reserve
Reserve by telephone at least 3 days in advance
Tel.+81-255-86-6108

Winter only

Airport shuttle bus

There is also an airport shuttle bus that connects the airport to Myoko. A shuttle service to Akakura Hot Spring is also available (reservation required).
*Shuttle service is not provided for afternoon flights.

Narita/Haneda Airport -
Myoko/Madarao (Akakura Hot Springs)